Welcome To Eco Pest Control Melbourne
The Pest Management & Termite Treatment Experts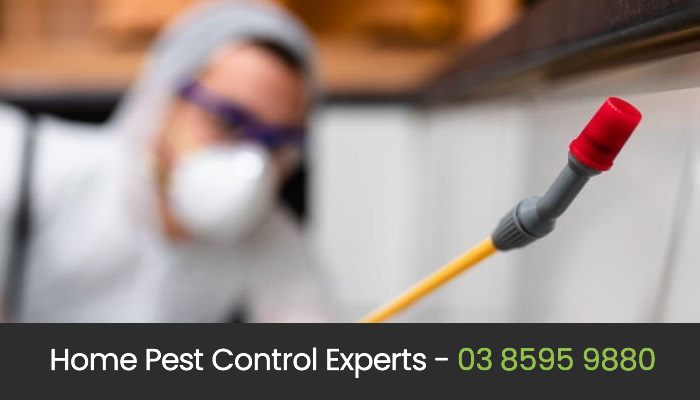 Hi, Welcome to Eco Pest Control Melbourne
At Eco pest control Melbourne, we provide protection services and pest control for homeowners and businesses. We offer solutions for all pest types and work closely with homeowners and businesses to provide pest prevention programs and quality pest treatment.
Here at Eco pest control, our team of specialists and technicians offer different removal services to ensure that your home and workspace are protected. Our years of experience in the pest control industry have helped us develop the most appropriate pest removal methods and techniques that won't hurt the environment, occupants, and still ensure pest removal. To guarantee the best results, our licensed technicians use cutting-edge pest detection tools, and we guarantee that our solutions will keep your family and business saf
Do you have a problem with domestic pests? Whatever the issue, here at Eco pest control Melbourne, we can find the most appropriate solution for your property. We treat rats and mice, termites, ants, bed bugs, ticks, silverfish, bees and wasps, spiders, possums, and cockroaches.
Our knowledge and experience are second to none, and we offer the following services for all pest types in Melbourne.

Residential Pest Control
If you have a pest problem, we will remove it and make sure they don't come back. Our professional extermination and pest control service use a modern process to remove undesirable critters from your home. However, we can create a custom solution for your home for personalized pest removal. You can trust our professionals to provide quality pest treatment that will guarantee the health of everyone in your home.
Creepy pests like spiders, cockroaches, mice, and spiders can cause health problems if you leave them unchecked in your home. Besides health implications, pests like termites can cause serious structural damage. Our treatment plans cover cockroaches, ants, ticks, termites, spiders, fleas, and silverfish.
Here at Eco pest control Melbourne, we believe in providing excellent service that will guarantee your health. Our services are pest-specific and cover different pests of different sizes. Plus, our treatments are not harmful to pets, humans, and the environment. We also offer pest inspection for new homes for easy detection before full infestation.
Commercial Pest Control
Eco pest control Melbourne has been actively supporting hundreds of offices, retail shops, restaurants, hotels, and other commercial businesses for years. Since rodent and insect problems put commercial institutions in a tight spot, we offer proactive pest prevention and management techniques. Our commercial team of highly-trained pest technicians will use the latest technology to identify, prevent, treat, and protect your property.
We offer programs tailored for specific businesses. For example, we understand that restaurants, shopping centers, and hotels must meet the highest safety standards since they work with food. As a result, we take measures to ensure your 5-star ratings don't drop and your audit goes as planned. Our management protocols won't affect your normal operations.
We understand that the influx of customers, stock, and other out-of-control circumstances can make pest control difficult. However, our team will regularly inspect your business and provide tips to reduce risk within your business. We specialize in commercial pest control for:
Strata, Offices
Retail Shops
Shopping Centres
Restaurants
Schools and Universities
Childcare
Hotels
Government
Termite Inspections
Termites or white ants are one of the most destructive pests around the world causing homeowners millions of dollars and destroying structures. If you need an affordable termite inspection service, we can help you. At Eco pest control Melbourne, our trained termite inspectors follow Australian Standards for all inspections.
Our inspection is aimed at one thing – to find evidence of termite activity. We do this by thoroughly checking the property. We also use the latest detection technology to uncover termite activities around areas of your home. The areas we inspect include the interior and exterior of a building. This includes accessible roof cavities, crawl spaces, beams and trusses, soil area, floorboards, and any other place termites can hide. The last thing you want is to deal with these little monsters that can cause extensive damage to your home within the shortest period.
Termite Inspection
1 in 3 homes will be affected by termites within the structure's economic life – so says CSIRO. Sadly, termite-caused damages are not covered by insurance. Why? Because they are entirely avoidable. Regular inspection, termite treatment, and preventive methods will protect your property from termites.
Our technicians at Eco pest control Melbourne use the latest termite detection tools to detect termite activity. Some of the tools we use include:
Borescope camera for analyzing wall conditions
Termatrac T3i all sensor for detection motion
Thermal imaging infrared camera for detecting heat through floors and walls
Moisture metres for identifying anomalies inside the walls
Termite tapper for evaluating sounds
Our termite inspection is effective and second to none. Although the duration varies depending on your home type, we conclude most inspections within a few hours.
Termite Treatment
If you have termites in your home or want to control them with the best method, you have come to the right place. Instead of installing physical barriers and baiting systems right away, we offer a long-lasting and professionally safe pest control treatment. At Eco pest control Melbourne, we use the most effective pesticide developed by BASF – the number 1 pesticide developer in the World.
Our Termidor termite treatment is 100% effective at controlling and exterminating termites. Termidor works by ingestion and contact. The chemical is lethal to termites after contact, and a single infected termite will infect others and the entire colony by contact. The effectiveness of Termidor spreads like a virus throughout the colony and is environmentally safe.
Termidor treatment has a low odor and is not discoverable by termites. It is also easy to use and has low water solubility. After using Termidor, our professionals will install barriers to prevent future infestation.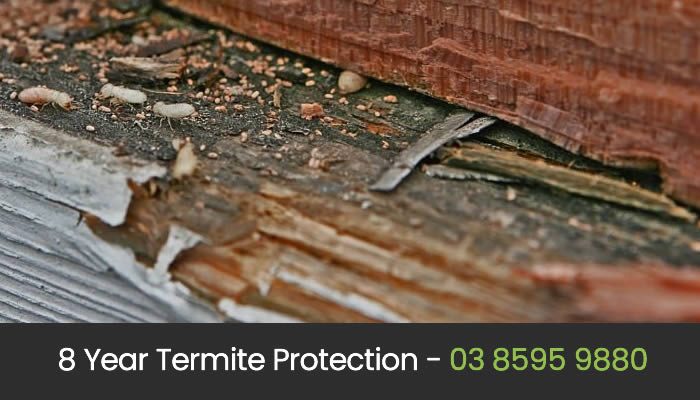 Termite Barrier
For many years, Eco pest control Melbourne has been providing the best termite solution for homeowners and businesses. Part of our wide range of termite management services is the termite barrier. Our termite barrier provides long-term termite management without continuous effort. You can choose between our physical or chemical barrier options to protect your property.
Our physical termite barriers are used during construction or renovation and laid over potential entry ways to deter termites. Apart from deterring termites, we block access points and force termites to reroute entry through visible areas where we can exterminate them conveniently.
Our chemical barrier system creates an unbroken zone around your property. We use Termidor, which is the best on the market. Termidor does not just repel termites but destroys the entire colony. Once a termite comes in contact with the barrier, it will carry it back to the colony and kill other termites.
At Eco pest control Melbourne, our termite barriers provide a lasting solution to stubborn termite problems and require little or no maintenance.
Termite Baiting Systems
For years, Eco pest control Melbourne has protected and services homes and businesses with the best termite baiting systems – Senticon, Exterra, and Trelona. Our baiting systems intercept termites in the ground before they can reach and damage your property. Not only do our stations detect termites, but they eradicate them. Homeowners that don't want the traditional chemical treatment or barrier feel more comfortable using our friendly systems.
When our professionals install a cellulose-filled bait station around your property, termites will eat the cellulose and share them among colony members. This act of gesture will ultimately eliminate the entire colony within weeks.
Our exterminators are licensed and trained to install termite baits without destroying your property. Rest assured, we take pride in providing the best services. Since we provide three baiting system options, you can select from any of the solutions you are comfortable with.
Reviews
Gloria from Eco pest control Melbourne was incredibly professional and friendly. The company is so great I will recommend them anytime.  – Stephen Wright
The reception at Eco pest control Melbourne responded quickly and courteously. The technician also arrived quickly and did an efficient job. – Freddie John 
Service was on time and efficient. We continued our routine even while Dave worked.  – Samantha 
FAQ
How much does pest control cost?
The price of pest control service varies depending on the size of the infestation, type of pests, number of treatments, or repeated treatments required. As such, we will calculate all related factors to give the final cost. 
How long does pest control take?
Pest control takes a few minutes or hours, depending on the choice of treatment. Regular pest control takes about 30 minutes, while active infestation control can take hours. A barrier installation can take up to a day. 
Can I get rid of my pest myself? 
No, you shouldn't. Temporary solutions will only work for a short period. Call a professional for a lasting solution. 
Why Choose Us?
Fully Licensed and Qualified Technicians (PCO's)
Public Liability Insurance – $20,000,000
10 Years Experience
Environmentally Friendly Products
One Off Or Regular Treatment Plans
Friendly & Reliable
Competive Prices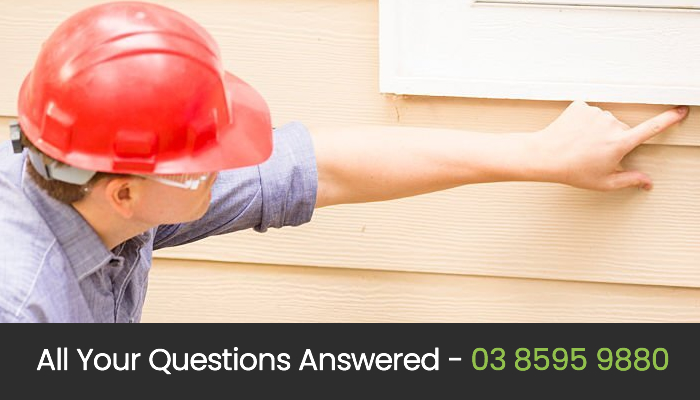 Areas We Service
Central Suburbs
Melbourne CBD
Inner City -Soiuth Yarra, Prahran, Richmond, Essendon, Collingwood
Eastern Suburbs and South East
Northern Suburbs
Western Suburbs
Mornington Peninsula
Contact Us
For speedy solutions and your pest control inquiries answered, look no further than Eco Pest Control Melbourne! Connect with a specialist today on 03 8595 9880.
Eco Pest Control Melbourne
Address: 100 Queens St, Melbourne, VIC
Phone: 03 8595 9880
Hours: Monday – Friday 9am-5pm
Weekends by appointment only