Termidor – The Melbourne Homeowners Choice
Your Local Trusted Termidor Applicators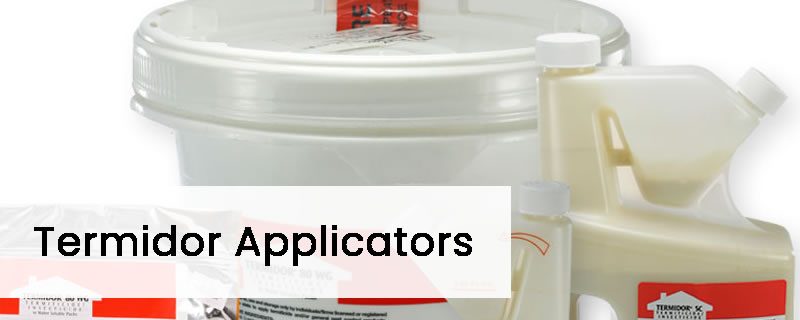 Eco Pest Control Melbourne is an accredited applicator of Termidor, and guarantee a $2 million warranty on our Termidor termite protection.
Termidor is a professionally-applied termite chemical barrier that is undetectable by subterranean and dry wood termites. It is also a defense product that has been protecting more than 4 million homes, making it the number 1 termite defense product.
But when selecting a chemical barrier, most homeowners ask the question, is Termidor any good? Eco Pest Control Melbourne uses Termidor, and we are one of the few accredited applicators. As a result, we can answer your question about whether to use Termidor or not.
Unique Transfer Effect  
Termidor treatment for live termites is unique for its transfer effect. What this means is that the solution does not immediately kill termites upon contact. Instead, the infected termite transfers the chemical by ingestion and contact from one termite to another even as they journey back to the nest.
Over a short period, Termidor will affect the entire colony and will stop their molting process until all the colony is eliminated, including the queen.
Undetectable and Environmentally-Safe
Termidor is undetectable to termites as it is odorless. It is also non-toxic to plant life and humans. Since termites cannot smell it, they won't be able to avoid contact with the barrier.
Termidor is a fast-action chemical that starts working immediately. It requires low-dose treatment and less water usage.
$2 million warranty  
Termidor is backed by a $2 million warranty, although with conditions. If applied correctly, Termidor has a life expectancy of up to 8 years in an ideal condition. This is because, besides the potency, the chemical will not be effective if you don't install it correctly and according to standards.
Termidor offers protection for any type of structure at risk of termite damage. Eco Pest Control Melbourne has installed thousands of Termidor installations at residential homes, churches, commercial businesses, churches, schools, and office buildings in Melbourne. Visit Eco Pest Control Melbourne at 100 Queen St, Melbourne, VIC 03 8900 1200 for a free quote or technical advice.
Termidor is available in different formulas to ensure the best application for homes -Termidor Sc and Termidor HE. There are a few differences between the two, mostly in the price structure and benefits.  Eco Pest Control is an accredited Termidor applicator, and our professionals will help you make the best choice that fits your budget.
Why Choose Us?
Free Quotes
$20,000,000 Public Liability Insurance
AEPMA Member
20 Years Experience
VIC Government Licensed
Affordable and Competitive Pricing
Background & Reference Checked
Children and Pet Safe Methods
Offering Flexible Appointment Times
Fast and Effective Management of Pests
We Guarantee Client Satisfaction
Locations
Melbourne Central Suburbs
Eastern Suburbs and South East
Melbourne CBD
Northern Suburbs
Inner City
Western Suburbs
Mornington Peninsula
Get in Touch
Get expert advice from our team today! Schedule a free phone consultation to learn more about how we can help. Contact us now on 03 8595 9880 for your exclusive appointment.