White Ant Control
Protection and Treatment for White Ants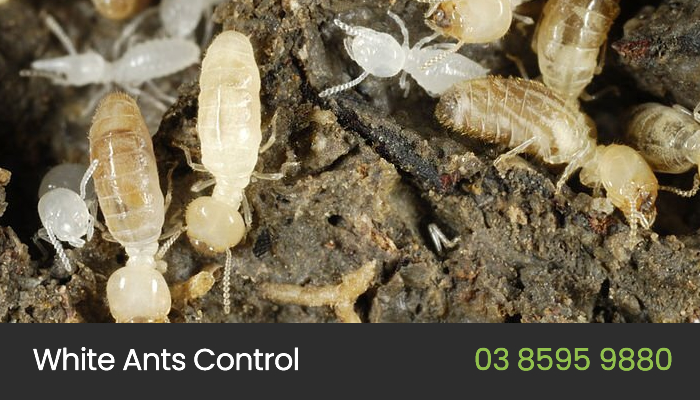 Ants are popular household companions most homes and businesses are familiar with. If nothing, we all know how ants love sugar and how we prefer not to eat sugary stuff in the living room to avoid attracting ants. But regardless of how hard we try, ants still make their way into residential and commercial structures. The presence of moisture, sweat and greasy food attract ants.
Many homeowners struggle with identifying ants. We have black ants, carpenter ants, and fire ants, etc. However, white ants are not real ants. Instead, they are termites. Yes, you heard right. White ants are termites.
Research has shown that 1 in 3 Australian homes will fall to termite attack over its lifespan. That means if they are not currently on your property, they are on one of your neighbour's. Here at Eco Pest Control Melbourne, our technicians are licensed to safely kill and remove termites. We use eco-friendly products that won't harm you or the environment.
How we treat 
White ants are one of the most destructive pests you can have in your home or business complex. They cost homeowners an average of $10,000 in damages. Not only this, but the home insurance scheme does not cover those damages as it is preventable. This is where we come in.
Inspection 
White ant inspections are designed to detect their activities before they structurally damage your property. To show its importance, the Australian government recommends annual termite inspections to guarantee absolute protection. During our termite inspection, we look for signs of termite presence and possible entryways. If we detect live termites, we will immediately spray them with a termiticide.
Our inspection covers the inside and outside of a home. It includes backyard landscaping, under the house, garden beds, dead trees and stumps, soil areas, trusses, vents, and skylights. We also inspect the timber cabinet, roof voids, door jambs, floorboards, architraves, floors, and ceilings.
Our technicians use moisture metres, thermal imaging, termite tapper, Termatrac, and various other tools to inspect and check for white ant activities.
Treatment 
If our white ant inspection indicates signs of activities, we will adopt measures to treat your property. Some of the treatments we use include physical and chemical barriers, bait stations, and a reticulation system.
Termite barriers are protective zones we put in place that repel termites, kill them, and prevent future invasion. Depending on your needs, we can install a physical barrier during a renovation or a chemical barrier after construction. As the name implies, the barrier repels termites and kills them. We can also use bait stations to trap termites and kill them.
Extermination
A complete white ant management solution must include extermination. If not, they will make their way back into your property in the future. At Eco Pest Control Melbourne, we mix Termidor into our bait stations, barriers, and reticulation system to kill termites.
Termidor is a slow-acting chemical that works by contact and ingestion. It uses a unique transfer effect to infect termites. After contact with the barrier or ingestion in the bait station, infected termites won't die immediately. Instead, they will become carriers and distribute the termiticide to other colony members by contact. The cycle will continue until all the nest is infected.
Termidor weakens the mandibles and prevents feeding. It also prevents moulting and ultimately kills the colony in a few weeks.
Prevention
After exterminating the entire colony, we will give tips and advice on how to keep your property safe from future infestation.
Why are they considered pests? 
White ants eat wood or anything that contains cellulose. If you leave them, they will destroy your building until you won't have a choice but to pull it down. They live inside the wood, and it is highly unlikely that you will spot one in daylight. White ants can travel from a distant colony to your building, and eventually, build their nest in your home.
The termite queen lays 15-25 eggs per minute. That is over 40,000 eggs per day. Not only this, the queen has the longest lifespan of most insects as it can live for up to 50 years. There are about 3,106 species, and more than a hundred have not been described. Still need to know why they are pest?
Common species in the city 
Subterranean termites are the most popular termite types that infest buildings. They are also one of the most dangerous. Apart from subterranean termites, other species include drywood termites and dampwood termites.
Common signs of infestation 
Damaged timber
The smell of rotting timber, mould, or mildew
Flying termites or swammers
Presence of frass and discarded wings
Clicking sound like a typewriter coming from inside the walls
Tunnels in wood
Windows that are hard to open
Damage under wallpaper or paint
Treatment tips and advice 
Ensure that vents to subfloor areas are free of blockages to keep the humidity low
Repair pipes and leaking taps
Ensure that water from air conditioning overflows and rain runoff drain away from the side of your house
Don't let climbing plants, bushes, and trees grow against the house.
Don't plant trees with strong roots near your home as they can penetrate the structure and provide a way for termites.
Ensure that building alterations don't affect your termite barriers.
Don't leave a pile of firewood too close to your building.
Only use treated wood for your garden fences
Remove dead trees and stumps
Reduces leaks from outdoor taps and watering systems
Use our bait stations and barriers are recommended
FAQs 
Can I claim the insurance on termite damage? 
No. Most home insurance schemes and policies don't cover damages caused by termites.
Are termite treatments safe around pets and children?
Yes, our termites are safe around pets and children. We use eco-friendly products, materials, and procedures that are non-toxic. If we need you to exit your property during treatment, we will notify you in advance.
Termites live in colonies underground. However, during certain times of the year, younger termites or winged adults fly from the colonies from their nest to mate and search for new food sources.
Why Choose Us
Free Quotes
Licensed Pest Technician
$20 000 000 Public Liability Insurance
Trained and Experienced
100% Satisfaction Guarantee
VIC Licensed for Chemical Treatment
20 Years Experience
Eco-Friendly Bait Products
Our Services
Residential and Commercial Treatments
Prevention of Future Outbreaks
On-Site White Ant Inspection
Barrier of Baiting Protection Treatment
Locations
Central Suburbs
Melbourne CBD
Inner City
South Yarra
Prahran
Northern Suburbs
Eastern Suburbs
Mornington Peninsula
Western Suburbs
Free Quote
Eco Pest Control Melbourne is here to help with your white ant control needs. Our friendly staff are waiting for your call and ready to provide expert advice free of charge – plus, you'll get guaranteed results! Give us a ring today on 03 8595 9880.